The Perkins Restaurant & Bakery® Opportunity
We concentrate on making our guests happy with the greatest customer service we can provide.
We focus on the highest quality foods we can make, using the freshest ingredients, and baking our pies and other baked goods in-house every day.
We prioritize franchisee success by providing our owners with the resources they need to thrive in business.
What makes Perkins
®
one of the top restaurant franchises? It's the fact that in our 60+ year history as a brand, we've developed a brand that has won over millions of fans, have helped hundreds of entrepreneurs own businesses that stand the test of time, and have become a part of the fabric of the communities we serve.
We've done all of this while continuing to adapt and change to meet the needs of our customers without sacrificing the warm hospitality, exceptional food, and outstanding value that makes us truly great.
We put our heart and soul into being the best we can be for our customers and franchise owners, and that has made all the difference. This is why, after 60+ years in business, we're continuing to grow with a new generation of savvy investors and experienced multi-unit restaurant operators.
That's how Perkins Restaurant & Bakery® defines being one of America's top restaurant franchises: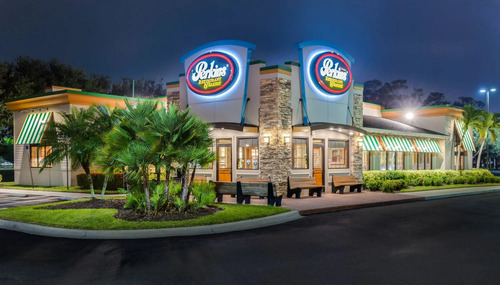 A Quintessential Restaurant Concept that Makes it Easy to be a Top Restaurant Franchise
It's really quite simple; focus on the important things—the food, the customer, and the franchise owner—and the rest falls into place. Perkins Restaurant & Bakery® has risen to the list of top restaurant franchises in our 60 year history because we do what we do well.
Perkins® is known for two major industries within the restaurant umbrella: breakfast and bakery.
The breakfast segment is a juggernaut, part of a $285 billion market*, and is often referred to as the one bright spot in the restaurant industry.
Because Perkins® started as a pancake house in 1958, we have a reputation as one of the pioneering breakfast brands. We've cultivated that reputation by serving a top-notch breakfast service all day long and by cultivating millions of regulars who come to us for breakfast as often as they can.
Perkins® might be famous as a breakfast restaurant, but we're also a full-service restaurant that proudly serves a robust lunch and dinner menu. Customers choose from a delicious lunch and dinner menu of heartier fare with classics like country fried steak, grilled salmon, burgers, soups, and more.
Then, there are Perkins® pies. Bakery by Perkins℠ is a big deal, not only because our pies are legendary, made fresh every day in-house, but also because we've modernized our ordering capabilities. Perkins® pie fans are able to order by app and pick up their pies (and other items) to-go or even through third-party delivery apps. This opens a whole new revenue stream for our franchise owners.
The bakery café industry brings in $17.1 billion* every year, and this is one area where Perkins® stands out against the competition, and it's another reason why we're among the top restaurant franchises in the nation.
Each guest of any Perkins® restaurant is treated like a welcome family member. It's part of the Perkins Restaurant & Bakery® mission, to make everyone dining in (or carrying out) with us feel at home while they enjoy their food.
We don't rush our customers to finish fast so we can turn over the table and fit as many customers into a shift as possible. Instead, we believe that getting to know our customers and making them feel comfortable will create a customer for life. There's not many brands that can boast about customers visiting them for decades.
Perkins® can.
Our customers are often surprised by how fresh and flavorful our food is, and how hospitable our service is. Many of them promise to come back, and they do. That's the Perkins® difference. That's how we've remained a top restaurant franchise for more than 60 years.
If we treat our guests this well, you can imagine how well we treat our franchise owners. Our relationship with our franchise owners lasts for decades, so of course, we're invested in making the strongest bonds with them that we can. Just like family.
That begins with one of the best franchise support platforms in the restaurant industry. Our support of our franchise owners includes intensive training and continues with ongoing support well after the grand opening.
Our owners benefit from the support that only a top restaurant franchise can provide. Here's what that looks like:
Site selection assistance
Extensive training and pre-opening preparation
Vendor and supply relations
Cutting edge marketing support
Access to our confidential operations manual and franchise development team
Continued on-site field visits to keep strengthening our relationships
Investing in a Perkins Restaurant & Bakery® franchise has never been more affordable than it is today with our end-cap business model.
Historically, we focused on developing free-standing locations, but as real-estate opportunities changed and consumer patterns evolved in the wake of the pandemic, Perkins®' developed a business model that is a perfect fit for the times.
Our end-cap model requires a significantly smaller footprint than our traditional locations, without sacrificing the full-service hospitality and made-to-order meals our brand is known for far and wide. This end-cap model allows our franchise owners the ability to capitalize on prime real-estate opportunities in their markets.
Does investing with a top restaurant franchise brand that's iconic in both the breakfast and bakery restaurant space and has a legacy of world-class customer service that serves hearty, fresh food sound like a winning proposition? We'd love to hear from qualified investors ready to get to work!
 Contact us today to learn more!